Financing Your Bryant® & Carrier® Purchases
County Heating & Air Conditioning has been serving Southern California companies and homeowners for over 34 years. We have been meeting the heating, air conditioning and ventilation requirements of industrial, commercial and residential customers with industry best solutions. We are known for our technical expertise, quality work and outstanding customer service! Financing for your Bryant® or Carrier® HVAC equipment and services has never been easier. Your heating, air conditioning and indoor air quality system is crucial, and also comprises a massive part of operational costs. Our desire is that our customers experience the performance and efficiency savings of modern HVAC solutions. For this reason we offer financing through the Bryant / Carrier credit card.
We encourage you take advantage of financing, along with current rebates that make a new air conditioning and heating solution a reality!
As a cardholder, you'll enjoy benefits such as:
Convenient monthly payments
A revolving line of credit for all your purchasing needs
Special promotional offers where available
An easy-to-use online bill payment option
The Bryant / Carrier credit card is issued by Wells Fargo Financial National Bank.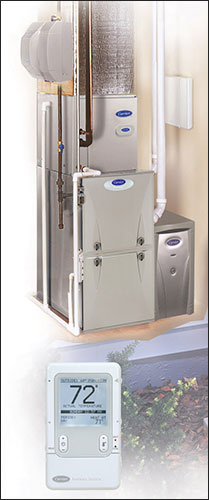 &copy 2012 County Heating & Air Conditioning



We service all makes and models of equipment including, but not limited to: